PE1AQP's Printers
Table of Contents
I have two ink-jet printers, which I would like to use to print my own QSL-Cards:
An, about 20 years old, HP BI-2200 and
a fairly recent Epson XP-7100.
(Not to be confused with my other "2200" and "7100" devices. 😊 )
"TL;DR" or "In Short"
Both printers produce disappointing results, when used to print QSL-cards.
---
Introduction
Using LaTeX, one has full control over the information to print on the "data side" of a QSL-card. See, for example, my "standard" QSL-card produced in this way: PE1AQP's QSL card.
The rear-side of the photo-cards that I order is empty and can, according to the cards-vendor, be printed with any ink-jet-printer.
I happen to have two such ink-jet printers, with different mixes of advantages and disadvantages:
Hewlett Packard Business Ink-Jet 2200 :

This machine was purchased about 20 years ago in a shop-closing sale. It still works fine and prints good looking texts on standard A4 printer paper; in color if needed. (I've very seldomly used it to print photographs, so I cannot comment on that.)

The main disadvantage of this machine is that the ink is nowadays not off-the-shelf available in the shops and need to be ordered. This ink is then also very expensive (per cartridge). For the price of a full set of cartridges, one can buy a new printer!

(And so I did, at some point.)

Epson Expression Premium XP-7100 :

Purchased some two years ago (2019). A machine with several attractive features such as a build-in scanner, duplex printing and the ability to print on small paper-sizes.

This printer was judged as a (very) good device by the independent German "Stiftung Warentest (http://test.de).

Ink cartridges are also more affordable, but are much smaller. I'm afraid that I've already spend a multiple of the cost of the printer on ink by now.
I didn't compute the printing cost per page (yet); but it would not surprise me if they are very similar.
---
Printing QSL Cards
As indicated, my plan was to use QSL-cards with a nice, professionally printed front-side and completely empty rear-side. This rear-side is than free to be filled with my own printer. This works, more-or-less.
The HP printer prints nice, sharp lines, see these detail pictures: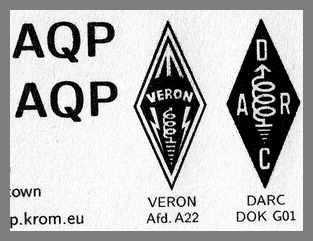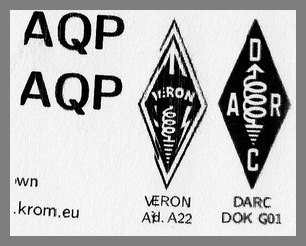 But as the second detail picture already shows, the HP has problems printing the whole card. Only one rubber roller inside the printer catches these 90x140mm² cards and when a bit more than half the card is printed even that one roller loses contact, causing the card to shift and wiggle under the ink-jet-head. See these right-wards and left-wards printed examples: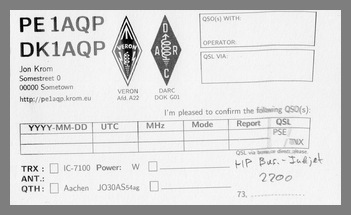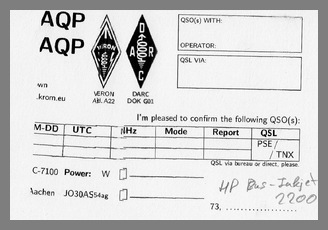 The EPSON printer, on the other hand, can print the whole card in a consistent way. But the lines are rather "rough" and "ragged". The logos tend to fill-up and become poorly readable: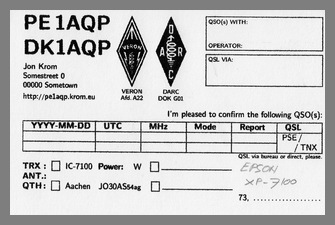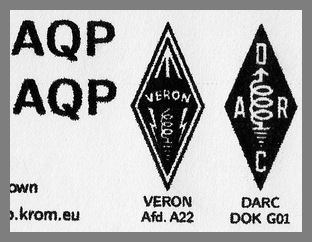 ---
Conclusion
Both these printers perform disappointing when printing on these cards.
The HP printer prints nice, sharp details, but fails printing the whole card.
The EPSON prints poor details, but is consistent over the whole card.
For the moment I print my QSL-cards on the EPSON, but I'll be on the look-out for a better device.
---
Back to